(Self-Love) The Psychology of Ecstasy
by Austin Osman Spare
First published in 1913, this magical book is resplendent with full page symbolist illustrations that represent some of the artist's most corrosive and beautiful draughtsmanship. It is also festooned with examples of his automatic drawings and sigils, this work has established Spare as a formidable and unique figure in twentieth century western magic.
This edition includes the original 1913 introduction by Ernest H.R.Collings and the 1975 introduction by Kenneth Grant.
Fine Image Reproduction
This edition reprints all the graphics and half-tone illustrations from a particularly fresh and well printed copy of the first edition. Illustrated endpapers and divider pages feature photomontages of the original book, overprinted with designs by Spare in silk varnish.
We have also located an original art work from the book and include a new reproduction for inclusion in this edition. A re-worked version of one of the original illustrations is also featured, alongside Mr Staley's eulogy to Kenneth Grant and his relationship with this book.
Startling New Contextual Essays
Featuring an evocative introduction by Alan Moore and an illustrated analytical magical essay by Michael Staley.
"The Zos and the Kia, collective unconscious, Cosmic Mind – however we formulate it, this gnosis is at the heart of Spare's work from its articulation in The Book of Pleasure, to its development throughout his subsequent work." Michael Staley (from his essay)
"Spare's book is one of pleasure. It speaks of the joy and the accomplishment that are the natural right of any soul unburdened by the world's imprinted intellectual architectures and emotive double-binds … It is impossible to recommend this work too highly, so read on. Pleasure yourselves." Alan Moore (from his introduction)
Only the Standard Edition is available. PO Boxes are not suitable addresses as postage will be insured and a signature is required.

Standard Limited Edition
900 copies, hand-numbered
100 pages, 230 x 320mm
Hardback cloth bound, with dust-jacket.
Letterpress ex-libris, designed and produced
by Joseph Uccello, see image below.
£44 (plus p&p)
Deluxe Limited Edition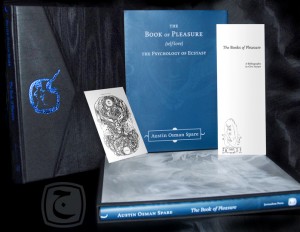 100 hand-numbered copies
Signed by Mr Moore and Mr Staley
Quarter-bound in morroco (front board chevron features foil block design) with black moiréd silk sides. 100 pages, 230 x 320mm. Head and tail spine bands, silk ribbon bookmark, dust-jacket with illustrated wrap, and black cloth slipcase with illustrated boards.
Includes a specially commissioned limited edition numbered Letterpress ex-libris, designed and produced by Joseph Uccello, see image below. Bibliographical list The Books of Pleasure, by Clive Harper (signed and numbered).

£124 (plus p&p)   S  O  L D    O  U T
For US and Pacific Rim pre-orders please contact JD Holmes.com
The Deluxe Edition includes a large signed limited edition letterpress ex-libris by Joseph Uccello (left) and a smaller letterpress design is included in the standard edition (right)… (click on image for larger view)